By Pedro Silva. Reprinted from Huffington Post.
"I don't want to talk to them because they think too differently."
"How can I have a conversation with someone who just seems to disagree with everything I think?"
"How can anyone agree with that line of thinking?"
These days it seems that conversations have a lot more in common with competitions than they do with discourses. The thought of people exchanging ideas and learning about and from one another is becoming increasingly rare. Rather, many of us experience the thought of deep dialogues in a manner similar to being summoned to court. It's as if our opinions are on trial and we can't help but be in defense. With this tendency, polarizations are appearing to grow at alarming rates and as a result many are reporting a general sense of powerlessness. For this reason, many people are seeking shelter in their siloes of homogeneity out of pure instinct.
Or at least that is the narrative that we have been hearing…
continued
By Sean Sevy. Reprinted from Huffington Post. 
Is climate change real? These days, that's an issue of warm debate. Speaking of warm, let me suggest that perhaps the most severe issue these days isn't the warming climate, but the warming political climate. In other words, when we try to have a constructive conversation about a sensitive subject like global warming, the conversation quickly turns hostile. Political climate change is real. So real, that when it comes to political issues in daily conversation, our ability to see the other side is extremely hazy amidst the toxic fumes of polarization. The environment is warming. It's not at a natural rate. And it is a result of our own actions. So is there hope for reducing this blight?
I recently learned about an event in Salt Lake City called Climate Conversations. The event claimed to put "respectful dialogue" and "differing views about climate change" in the same room. I had never seen this stunt done before, so I signed up. The panel at this event had all the ingredients for what you'd expect to be a catastrophic disaster in climate change debate: an energy advisor for the pro-coal Governor's Office, a professor at a church-owned University, a climate scientist, a habitat scientist, and a director from a conservative think tank. But they all agreed to be civil. In fact, the event included something called "civility bells," where if the conversation got out of hand with any type of personal attacks, a volunteer would ring the bell. Alas, this debate did not require civility bells to simmer things down. But I'm sure anyone who wants that type of entertainment from vehement debate can just re-watch last year's Hillary/Trump debates. For now, we won't pick at the scab of last year's debates. But let them be standalone evidence that political climate change is a real thing. I mean, how many times would those guys need a civility bell? But let's get back to these climate debates.
continued
By Ralph Benko. Reprinted from Huffington Post.
I've written here before about the Trump Revolution, the progressive counter-revolution, and the secret counter-counter-revolutionaries (like me) who hold that it is more valuable for both sides to be listening to, rather than shouting at, one another. Call it Occupy Our Minds.
We're the guerrilla force hiding out in the wilderness in obscure but convivial places like livingroomconversations.org, allsides.comand hifromtheotherside.com. The counter-counter-revolutionary ethic is summed here as "Not understanding each other has led to dehumanizing others in a way that is detrimental to our society as a whole. This has led to our increased polarization and political gridlock. … When people of all walks of life begin to care about one another, they can begin working together to solve the wicked problems of our time."
There's been a media blackout on us, with a few rays of sunshine poking through The Huffington Post and here and there. But wait.
Stop the presses! 
This just in! 
Extra! Extra! 
We are not alone!
continued
By Sarah Berg. Reprinted from Huffington Post.
We are living in a cultural moment in which this basic thing about what it means to be human—face-to-face conversations—feels like a fading art. And it feels urgent to recover it.
As President Obama said in his farewell speech in January, "If you're tired of arguing with strangers on the Internet, try talking with one of them in real life."
So the simple but profound elements that make up Living Room Conversations—the same ground rules we used in Kindergarten, and questions that get at our hearts and values and personal experiences—seem to offer us a way back into meaningful conversations with each other.
A client of mine, Climate One at the Commonwealth Club, wanted to engage professionals who work on water issues in the state of California. We decided to see what would happen if we had experts who work on different aspects of water—policy, research, technology, agriculture, environment, etc.—spend time together talking not about policy, but about personal experience.
continued
By Shelly Jenson. Reprinted from Huffington Post.
I am fairly new to the dialogue world. It was a mere two years ago that I attended my first dialogue event and it was so profoundly different from anything I had ever experienced that I simply had to learn more. As I have become more involved with the dialogue community, I've found that my deepest passion is in bringing together communities which do not normally engage — person-to-person.
This passion has led me on a journey in which I have contacted dozens of community leaders and organizations across the vast spectrum of society that is nestled between the Wasatch and Oquirrh mountains, the valley home of Salt Lake City. 
When I plunged into this endeavor, it was with the hopes of sharing both my passion for dialogue and my passion for collaborations across divides. I have not been disappointed as many new partnerships are underway, but while many possibilities have arisen, I have also experienced adverse reactions to the proposal of dialogue across divides; even with groups I have been invited to speak with.
continued
By Ralph Benko. Reprinted from Huffington Post.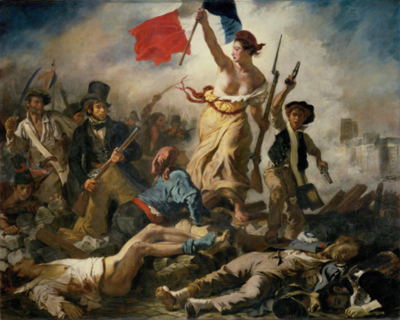 Eugène Delacroix, Liberty Leading the People
The Rasmussen polling company recently issued a bulletin headlined "A lot of Americans have hard feelings after last November's presidential election." This is not a surprise but it is good to have it quantified: 
"A new Rasmussen Reports national telephone and online survey finds that 40% of Likely U.S. Voters think the election has negatively affected their personal relationship with a friend or family member. 
...
"Fifty-four percent (54%) of voters who Strongly Disapprove of the job President Trump is doing say the election has hurt a personal relationship. Just 35% of those who Strongly Approve of Trump's job performance agree.
"Seventy-seven percent (77%) of all voters now think Americans today are less tolerant of each other's political opinions than they were in the past. That's up from 70% in November. Voters were last this pessimistic just weeks before the 2012 presidential election. Only 11% think Americans are more tolerant of each other's views than in the past, while 10% think the level of tolerance is about the same."
... 
Women and younger voters are more likely than men and those 40 and over to say a personal relationship has suffered because of the election. But older voters agree with women that there is less political tolerance in America today.
continued
By Mary Gaylord. Reprinted from Huffington Post.
We do it constantly, almost without thinking, hook, line, and sinker. The Free Dictionary defines this idiom as follows: "to be tricked into believing something without any doubts." 
We take the hate bait. And then we share the hate bait — we tweet it, post it, talk about it.
Hate bait is when someone bites on, reacts to, and/or spreads some incendiary story, post, tweet, or the like. It gets one's dander up and blood boiling. It serves as a catalyst to get us or our adversary poised to jump on a high horse and go for a ride. It can feel so righteously poignant, clever, and in-your-face. 
Some of us live for it. We can hardly wait for someone to do or say something so we can join them or oppose them and show anyone else who is paying attention, how right we are and how wrong they are. We go with the emotional rush, not bothering with mundane details like accuracy or truth. We take the hate bait, hook, line, and sinker. And we share it.
continued
By Debilyn Molineaux. Reprinted from Huffington Post.
Our society is forever pushing us to "do something" to leave the world a better place for our children.
Action is valued. Conversation and dialogue seem less important.
How do we decide what action to take? And who do we include in the decision making? Let's look first at the types of conversations* (as distinct from dialogue) we can identify:
continued
By Debilyn Molineaux. Reprinted from the Huffington Post.
I like to describe our country as "the big, raucous American family." And there is hardly a better opportunity to build family connections than with games. Or a more revealing way to understand each other and ourselves, than by the tactics we use within the game.
My dad used to slip Monopoly money to my sister, because he couldn't stand to see anyone lose. Our neighbor was outraged that my dad wouldn't follow the rules of the game. Another card game we played with friends, Nertz, has a shared playing field and a private one. I was outraged when one of our friends refused to play in the shared field because it would benefit our team. He was in it to win. No holds barred. As you may imagine, I am accustomed to more coopetition than winner-take-all. (Thanks, Dad!) I learned much about people from playing games with them and also tapped into my own hyper-competitive side on occasion.
continued
By Ralph Benko. Reprinted from The Huffington Post.
Image licensed under Creative Commons
As the "second most conservative man in the world," according to a Washington Post Magazine humor columnist, I much prefer reading, and get most of my news from, publications of the left. Like The Huffington Post, Mother Jones, Rolling Stone, The New Yorker, and The Atlantic Monthly.

Why? 
I already know what I think. Variety is the spice of life. 
Reading writings from members of my own Tribe doesn't usually challenge my thinking. There are plenty of smart people on the left as well as on the right. I like to have my opinions challenged. Exposing myself to thoughtful counternarratives and counterarguments helps me gain a more complete perspective. It helps me compensate for my own blind spots.
Everyone has blind spots. I do. You do. 
It is fascinating to discover what's inside them.
For the same reason I relish being part of livingroomconversations.org constituted by the wonderful MoveOn co-founder Joan Blades to bring people of differing viewpoints together to hear one another and celebrate varied creeds. I try to listen not to identify the blind spots of others but to help myself confront my own.
continued